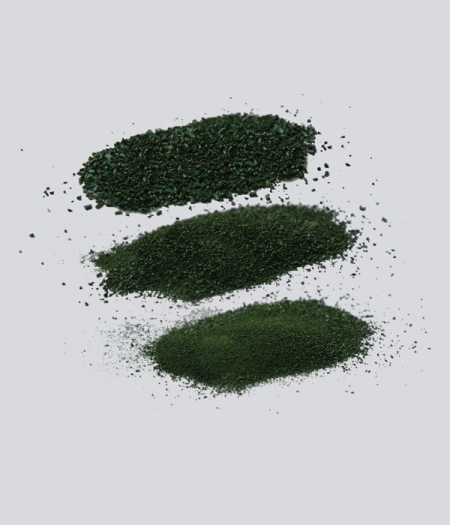 Spirulina grinder
Description
Grinder designed to reduce spirulina to powder when consumed. This results in a powdered spirulina that retains its nutritional properties and bioactive molecules, unlike all spirulina sold in powder form, which have undergone drying processes at high temperature (180ºC) and are thus denaturalized and oxidized. This is why spirulina powder has a strong smell and an unpleasant taste. This is not the case with an artisanal spirulina dehydrated at low temperature, which gives a completely natural and pleasant taste.

Composition: glass jar and ceramic head

Raw product (drying <40ºC)
General infomation
Looking for a Premium Spirulina Powder?
Here is the only spirulina powder that does not get oxidized and retains a very pleasant smell and taste!
Any spirulina powder on the market is oxidized: it is dried by a high-temperature spraying process that breaks the spirulina filaments and loses its natural protection against oxidation. Therefore, spirulina powder smells and tastes very strong, apart from having lost main active nutrients due to high temperature.
However, when Spirulina is grounded from nibs or crunchies at the time of consumption, freshness and raw product properties remain, full of bioactive nutrients. For the greatest benefit of your body!
With the Grinder, you will be able to grind the spirulina at the moment of consuming it. This way you get spirulina powder that does not oxidize. The head of the grinder allows you to adjust the thickness of the desired powder for greater enjoyment.
The specific colour of the grinder filters out the rays of sunlight that affect the phyto-pigments of spirulina and let through the ultraviolet and infrared rays that maintain the high bioenergetic power of spirulina.
The quality of food is our priority and we take every precaution to get a product in the freshest possible condition.
The grinder is your best ally to obtain spirulina powder of the highest quality. Nothing to do with the spirulina powder proposed on the market.



Environment
The cultivation of Ecospirulina is highly sustainable and is located in an unbeatable natural environment.
Our production is certified by the Serra Calderona Natural Park.

Ethics
We produce high quality food including all the human values ​​that we want to foster in a modern society. For this we want to be 100% transparent, we work for food sovereignty and the development of the rural environment. No cheat.

Solidarity

activity
As federated producers, we are committed to allocate 2% of our sales to the development of serious spirulina crops in disadvantaged areas of the world.

Telephone

service
Always be a pleasure to serve you.
Monday to Friday from 9 a.m. to 8 p.m.
46119 Náquera
Valencia - Spain

Fast

shipping
Free postage
Shipments leave the next day at your request and with a 24 Hour Delivery service in Peninsular Spain.
FREE SHIPPING ON ORDERS ABOVE 49€ (SPAIN)