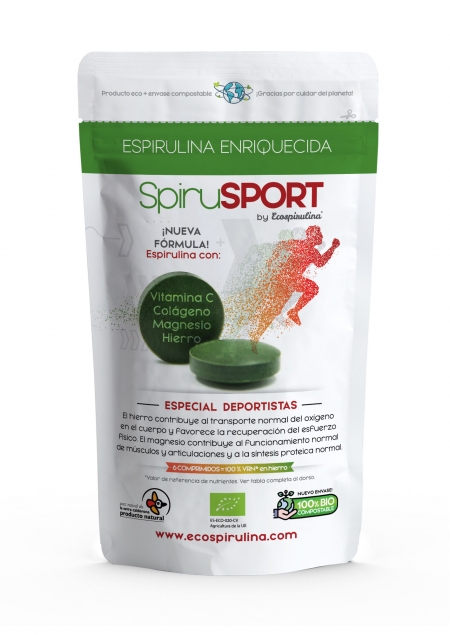 SpiruSPORT: organic spirulina enriched with Iron, Magnesium, Collagen and Vitamin C - Special sport and Iron
Description
100% pure organic Spirulina enriched with Iron, Vitamin C, Magnesium and hydrolyzed marine Collagen. 200 tablets.
Specially formulated for athletes and people with iron anemia. Its excellent absorption and bioavailability ensure a nutritional complex of the most complete on the market, as it incorporates molecules of the highest quality and organic.
Composition: Espirulina, Hierro, vitamina C, Magnesio, Colágeno
Origin: Spain
General infomation
It's here!
A unique formulation with premium bioactive molecules: SpiruSPORT. Developed together with sports doctors and iron deficiency anemia specialists in response to the great demand of our customers, it provides the right dose of essential nutrients and spirulina.
Spirulina is the most nutritious food with the most iron that humans can consume.
Being a microorganism, its iron content varies slightly during the harvesting season. For this reason, we have supplemented spirulina with another form of iron [Fe2+], which is more assimilable than its oxidized form [Fe3+]. This ensures a controlled supply of iron. To enhance iron assimilation, the formulation contains Vitamin C.
It is specially designed for people with iron anemia and athletes, which often coincides with a deficiency in magnesium and collagen.
For this purpose, the experts consulted have recommended the best sources of magnesium and collagen in hydrolyzed form and of marine origin.
With this unique formulation, Ecospirulina responds to the requirements of many of its customers who wish to see the effects of spirulina reinforced. We are confident that we have achieved the perfect formulation of these elements that nutritionally complement spirulina.
Iron: Elemental iron supply thanks to the combination of iron contained in spirulina together with ferrous sulfate and ferrous gluconate, the most assimilable forms of iron by the body, helps the production of hemoglobin in the blood, the transport of oxygen, the recovery from physical exertion and restores adequate levels of iron in the blood.
Magnesium: It participates in the normal functioning of muscles with the formation of proteins and promotes energy metabolism by reducing fatigue and chronic fatigue. It helps to fight osteoporosis and to maintain strong bones.
Collagen: Essential constituent of cartilage, bones, tendons and skin, its contribution is essential to promote joint flexibility, bone strength and connective tissue in good condition. Its intake is essential for intensive sports practice. The hydrolyzed marine collagen used in the formulation of SpiruSPORT is composed of particles smaller than the collagen in meat. This favors its absorption and reaches the bloodstream more easily, providing greater healing, repair and nourishment. In addition, it is easily assimilated, being suitable for people with a more delicate digestive system.
Vitamin C: Promotes iron assimilation and collagen synthesis. Powerful antioxidant that acts against free radicals. Strengthens the immune system.
Recommended amount:
4 tablets provide:
100% of the Nutrient Reference Value (NRV) in iron,
50% NRV in magnesium,
50% NRV in vitamin C,
100 mg of hydrolyzed marine collagen.
For occasional athletes, people with mild iron deficiency anemia, 4 tablets per day are recommended.
For regular to intensive athletes and people with severe iron deficiency anemia, 4 tablets are recommended on an empty stomach and 2 to 4 tablets after exercise for athletes and before meals for people with anemia.
They can be taken in one dose on an empty stomach with a fruit juice for example, or in a couple of doses throughout the day, before meals. In either of these two ways, and thanks to the mixture with spirulina, the intestinal absorption of nutrients is optimal.
Ingredients:
Pure organic spirulina dehydrated at low temperature and produced in Spain 92%, magnesium chloride, ferrous gluconate, L-ascorbic acid, hydrolyzed marine collagen. No caking agent or excipient, no additives, no preservatives, no dyes, no pesticides, no GMO. Natural product.
200 tablets of 400mg. Net weight 80g.
Storage:
Airtight bags with zip closure. Storage: 2 years in a dry place protected from light. If you wish to change the packaging (the SpiruSPORT bag is airtight), the product can be stored in a dark, airtight glass jar.



Environment
The cultivation of Ecospirulina is highly sustainable and is located in an unbeatable natural environment.
Our production is certified by the Serra Calderona Natural Park.

Ethics
We produce high quality food including all the human values ​​that we want to foster in a modern society. For this we want to be 100% transparent, we work for food sovereignty and the development of the rural environment. No cheat.

Solidarity

activity
As federated producers, we are committed to allocate 2% of our sales to the development of serious spirulina crops in disadvantaged areas of the world.

Telephone

service
Always be a pleasure to serve you.
Monday to Friday from 9 a.m. to 8 p.m.
46119 Náquera
Valencia - Spain

Fast

shipping
Free postage
Shipments leave the next day at your request and with a 24 Hour Delivery service in Peninsular Spain.
FREE SHIPPING ON ORDERS ABOVE 49€ (SPAIN)