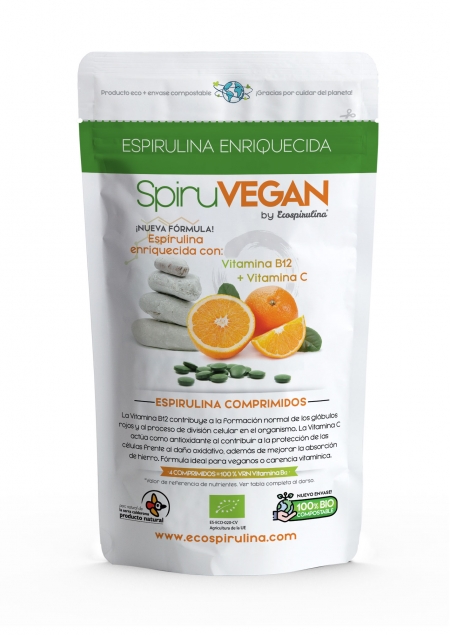 SpiruVEGAN: enriched Spirulina with Vitamin B12
Description
Spirulina's natural content of vitamin B12 varies and is not fully assimilated by the body.
SpiruVEGAN is intended for vegan and vegetarian people who include or want to include Spirulina in their diet as a complete nutritional intake including as a source of vitamin B12. It is already a reality: with 4 tablets of SpiruVEGAN we obtain 100% of the Reference Daily Intake in Vitamin B12, added to all nutritional content of raw spirulina (dehydrated at low temperature, <40ºC).
Composition: Spirulina 98,5%, cianocobalamina (vitamin B12), L-ascorbic acid (vitamin C)
Origin: Spain
Raw product (drying <40ºC)
General infomation
SpiruVEGAN is a unique formulation composed of premium quality, organic bioactive molecules. It is specially developed for people who need an extra supply of vitamin B12 in their diet. Ecospirulina has collaborated with 2 professional nutritionists to incorporate the right amount of cyanocobalamin (vitamin B12) along with vitamin C into our pure organic spirulina tablets.
Our organic spirulina is cultivated in the Serra Calderona Natural Reserve (Valencia, Spain), in a protected environment and with high quality water. The dehydration process is carried out at low temperature (<40ºC) to preserve all its nutritional properties and to remain a raw food.
Despite containing vitamin B12, spirulina is not considered to be a verifiable source of this vitamin: its complete absorption process by the organism is not known today and it is hypothesized that only a part (between 20 and 40%) of the vitamin B12 in spirulina is absorbed by the organism. The remaining part being an inactive form of vitamin B12 for humans.
In addition, the vitamin B12 content of spirulina may vary depending on the culture conditions. Therefore, we have responded to the strong demand of our customers by developing this unique formula.
SpiruVEGAN is ideal for vegetarians and vegans as well as pregnant women, as it represents an assured supply of vitamin B12 or cyanocobalamin, together with the high nutritional density of spirulina.
Vitamin B12 is found naturally in foods of animal origin (meat, fish, eggs, dairy products...). It is necessary for DNA synthesis, for the proper functioning of the brain and central nervous system and for the production of red blood cells. It accumulates mainly in the liver in amounts ranging from 1-5 mg, so when there is a deficiency, symptoms may take years to manifest. These symptoms range from fatigue and anemia, to bone marrow aplasia, neurological alterations and risk of cardiomyopathy. That is why nutritionists recommend supplementing vegetarian and vegan diets periodically with this vitamin.
The vitamin C included in the formula complements the multivitamin contribution of spirulina and improves the assimilation of the iron contained in spirulina. It is a powerful antioxidant that acts against free radicals.
The Nutritional Reference Value (NRV) in vitamin B12 is 2.5 microgram (EU Reg. 1169/2011) for an adult person.
Recommended amount:
4 tablets provide:
100% of the Nutrient Reference Value (NRV) in vitamin B12*,
16 mg of vitamin C
* 1 tablet of SpiruVEGAN contains 40 micrograms of cyanocobalamin, prepared for a passive diffusion of 2% in the case of oral intake, regardless of the intrinsic factor.
It is recommended to gradually start taking 1 to 2 tablets in the first week, 2 to 3 in the second week and 4 tablets from the third week for an adult person. People with a heavy physical load (sportsmen, physical work) can supplement SpiruVEGAN with pure spirulina, in tablets or noodles to be added to their food to reinforce their complete nutritional intake.
They can be taken as a single dose on an empty stomach with a fruit juice for example, or in a couple of doses throughout the day, before meals. In this way, and thanks to the mixture with spirulina, the intestinal absorption of nutrients is optimal.
Contraindications:
A decrease in the absorption of vitamin B12 in the ileum has been observed with the intake of Metformin and colchicine-containing drugs.
Note: SpiruVEGAN is a fortified food and not a medicine. It is not suitable in cases of pernicious anemia.
Ingredients:
Pure spirulina dehydrated at low temperature and produced in Spain 98.5%, cyanocobalamin, L-ascorbic acid. No caking agent or excipient, no additives, no preservatives, no dyes, no pesticides, no GMO. Natural product.
200 tablets of 400mg. Net weight 80g.
Storage:
Airtight bags with zip closure. Storage: 2 years in a dry place, protected from light. If you wish to change the packaging (the SpiruVEGAN bag is airtight), the product can be stored in a dark, airtight glass jar.



Environment
The cultivation of Ecospirulina is highly sustainable and is located in an unbeatable natural environment.
Our production is certified by the Serra Calderona Natural Park.

Ethics
We produce high quality food including all the human values ​​that we want to foster in a modern society. For this we want to be 100% transparent, we work for food sovereignty and the development of the rural environment. No cheat.

Solidarity

activity
As federated producers, we are committed to allocate 2% of our sales to the development of serious spirulina crops in disadvantaged areas of the world.

Telephone

service
Always be a pleasure to serve you.
Monday to Friday from 9 a.m. to 8 p.m.
46119 Náquera
Valencia - Spain

Fast

shipping
Free postage
Shipments leave the next day at your request and with a 24 Hour Delivery service in Peninsular Spain.
FREE SHIPPING ON ORDERS ABOVE 49€ (SPAIN)